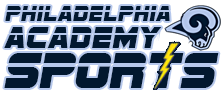 Upcoming Games


Philadelphia Academy's varsity basketball program has grown exponentially from its modest beginnings. We play a tough Public League schedule while also taking on exceptional non-league opponents. In 2012 and 2013 the boy's finished in 3rd and 2nd place respectively and earned a birth in the Public League playoffs. After losing the core players of those teams to graduation, we are now in the throes of rebuilding. Because of that, there is opportunity for playing time for underclassmen right now.
Our program also boasts unparalleled facilities and uniforms. We've recently renovated the locker room complete with name plates on each player's locker. We've also purchased new home and away uniforms, as well as, warm-up shirts and equipment bags for each player. Additionally, we tout a game day production staff that most other schools lack. We have a dedicated team manager, statistician, play-by-play announcer, and photo journalist.
Head Coach – Mr. Christopher Clark
Thanks for your interest in our program. Although I am the head coach, I'm also an educator and therefore take academics seriously. I understand that Head Varsity Basketball Coach Clark is an accomplished high school and college basketball coach. Being a teacher first is the basis of his coaching. Coach Clark's philosophy is built upon fundamentals, discipline, teamwork and defense; he is passionate about game preparation and skill development.
Coach Clark's previous experience includes two stints as girls' head varsity coach, one at Villa Joseph Marie High School in Holland PA and the other at Kennedy-Kenrick High School in Norristown PA. Mr. Clark also served seven years as an assistant varsity girls' basketball coach at Archbishop Wood High School in Warminster PA, and worked one year as a scout and in player development for the women's basketball program at the University of Pennsylvania.
Assistant Coach – Mr. John Petrie
My coaching Philosophy is simple: winning isn't everything but neither is simply participating – Trophies should be awarded to Champions. Certainly varsity sports should develop individual ability and teams should compete at their highest levels, but both should grow and develop under the guidelines of positive attitude, fair sportsmanship, honest effort and hard work. I have been a part of PACS for 11 years and enjoy being involved with the students outside of the classroom. This is my first year as assistant basketball coach, but I coached my daughter's youth team for 4 years and then coached my son's team for another 4 years.