School Progress Award Ceremony
Dr. William Hite, Superintendent of the Philadelphia School District, and Mayor Jim Kenney invited our CEO, Anna Marie Siegmann to an awards celebration today at Potter Thomas School. Mrs. Brody and Mrs. Adams accompanied Mrs. Siegmann to accept an award on behalf of Philadelphia Academy Charter Elementary School (PACS). The Leading the Way Award was presented to Mrs. Siegmann for the progress the school has made over the last year based upon our students' results in standardized testing. This honor indicates that when compared with similar schools in Philadelphia, PACS exceeds student progress levels. Philadelphia Academy Charter K-8 program is recognized as a Peer Leader in the Philadelphia Community. Mrs. Siegmann proudly accepted this award on behalf of the hard-working teachers, students and administrators. Our strong parental partnership allows us to continue to make great strides in the education of our students.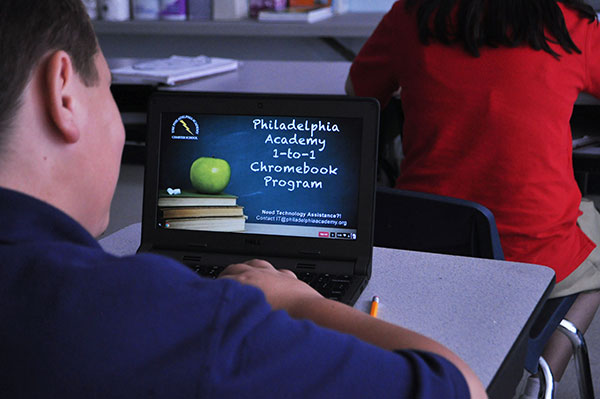 Philadelphia Academy Charter School is proud to offer our 6th – 9th grade students Google Chromebook devices for use at school and at home. The 1:1 Chromebook Program, which provides mobile computing and wireless technology to middle school students, has been designed to enhance the delivery and individualization of instruction.
For more information on our Chromebook Program and Policies, please click here.