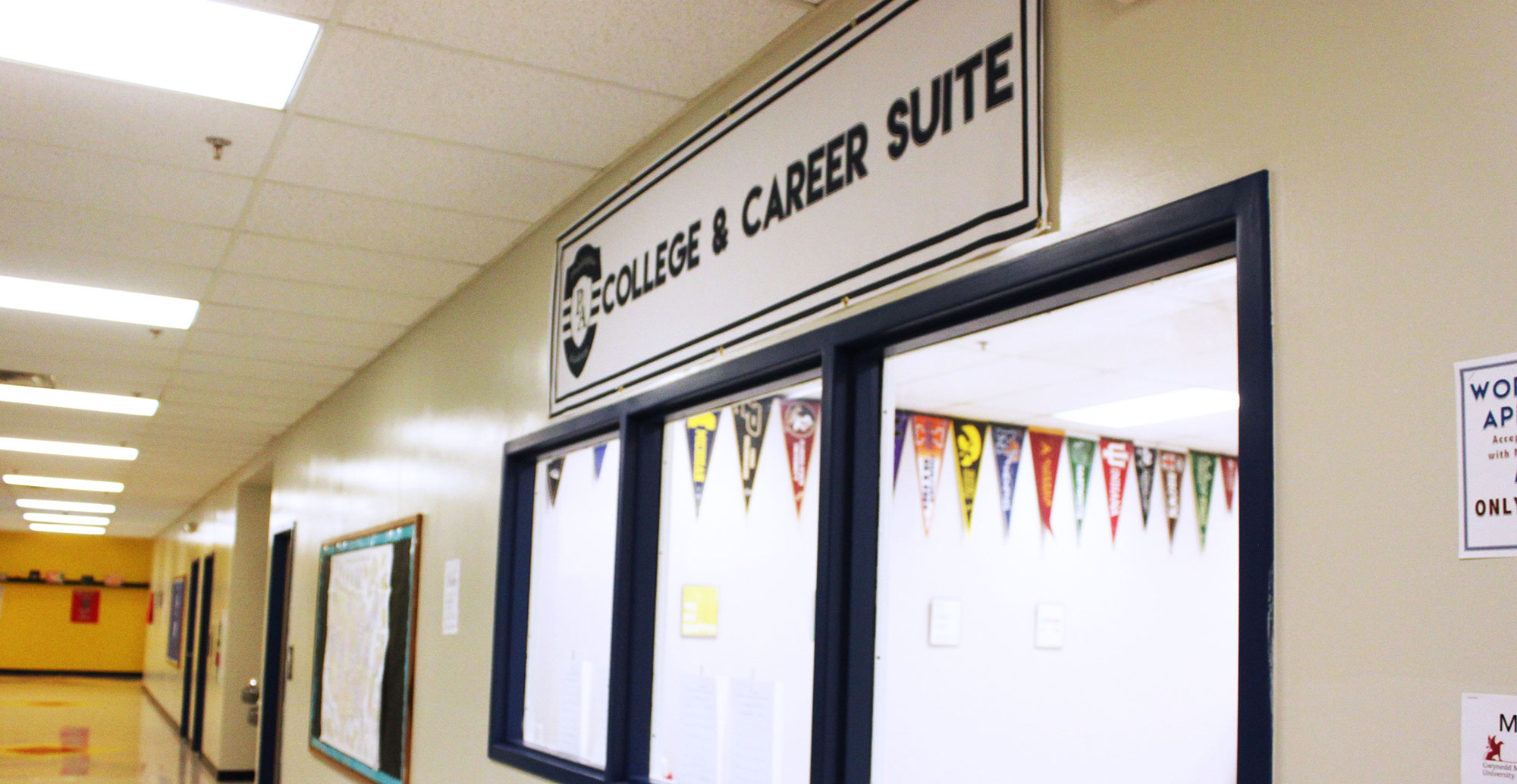 The mission of Philadelphia Academy Charter School is to prepare students to achieve the highest level of their potential academically, socially, and morally. As the College and Career Counselor, I work with students in 9th to 12th grade to explore career and/or college opportunities, help them develop goals, and help them make decisions that will allow them to reach their highest potential. I coach them through the entire decision-making process and ensure that they are best prepared for life after high school graduation.
Information about colleges, trade schools, the military, college entrance exams, programs for students with disabilities, and much more is readily available in the my office. There are several computers available for students to perform college searches, scholarship applications, and other career-related work.
The ASVAB is given at PACS in both the fall and spring of each school year. The PSAT is offered to 10th and 11th grade students every October. PACS also offers CollegeBoard SAT prep at least three times a year at a discounted price. College representatives visit on an almost daily basis every fall, and there are two college fairs every school year- one in the fall and one in the spring.
There are a lot of different websites and resources that answer many common questions regarding college and career planning. I have provided many of them for your reference under the "Resources" tab listed above. Please take full advantage of these resources so that you are better prepared for your future! Among these resources are SAT and ACT exam dates, the Occupational Outlook Handbook that provides information on careers and growth in specific fields, and scholarship search engines.
Communication is key! PACS students and parents all have access to Naviance Family Connection. It is extremely important that all students (especially seniors) log into this program often! Besides college searches, career searches, personality tests, and scholarship info, all college visit announcements will be posted on the Naviance homepage. Students are expected to register for these visits through the Naviance site. Naviance and e-mail are the best ways for me to communicate important events and deadlines, so please check each of them often!


Fill out the form below online. There is a $5 charge for each transcript.
Transcript requests will be accepted via the link below. Transcript requests are processed every Friday. You will receive a confirmation email when your transcript is sent.
Please note this cannot be done over the telephone, as we need written authorization from you to release your records. Any additional instructions or information may be emailed.
Recently, 10 students had their acceptance to Harvard University rescinded due to what they did online! Be mindful of your online activity -- it could seriously impact your future! Here Are Some Tips Click Here [...]

FAQs
pacshsminad
2017-07-20T10:26:42+00:00

You can begin the college application process as early as August 1st for most colleges, but typically students begin in September/October of your senior year. Remember that your application is not complete until your essay, letters of recommendation, and transcripts are sent to the college, so it's important to have all of those pieces together as early as possible. Your goal should be to have all applications submitted and completed by Thanksgiving.
Students can get a "transcript request" form from the counseling office. They should fill that out, with the college's address for their Office of Admissions, and give your counselor three postage stamps for each application.
Your SAT scores (if already available) will be on your transcript. However, some schools require your scores to be sent to them from the test website. So, you must log into the test website (CollegeBoard or ACT Student). Go to your scores, and click "send additional score reports." If you have already used your free score reports, you will be charged for this service (between $11-12/report). You can then search for colleges to send reports to.
The ACT is an achievement test, measuring what a student has learned in school. The SAT is more of an aptitude test, which tests reasoning and verbal abilities. The ACT has up to 5 components: English, Mathematics, Reading, Science, and Writing. The SAT has up to 3 components: Critical Reasoning, Mathematics, and Writing. Both the SAT and the ACT are scored based on the number of correct answers with no penalty for guessing.
The school's CEED code is 393452.
There are many places to search for scholarships. A great place to start is Naviance. Once you log in, click on the "colleges" tab. There are scholarship listings and searches at the bottom of the page. Mrs. Barbadoro also lists local scholarships on PACS' website throughout the year. The Philadelphia School District's Scholarship Clearinghouse (
http://webgui.phila.k12.pa.us/offices/c/ccawareness/programs–services/scholarship-search/scholarships
) is also a great resource. In addition, be sure to check the official website of any college or university to which you are applying; they will have their own scholarships listed there. You can also visit any number of scholarship search engines and look for scholarships for which you may be eligible.
Students that are eligible for free or reduced lunch are also eligible for (2) SAT fee waivers, (2) ACT fee waivers, and (5) college application fee waivers. Many colleges will waive their fees if it is a financial burden; don't be afraid to ask!
Colleges will look at a student's transcript to see decent grades and GPA. They will also look at the rigor (difficulty) of the courses a student has taken. Standardized (SAT or ACT) test scores are important, as well as the information in the letters of recommendation. Colleges will often look for students that are involved in extracurricular activities such as clubs, sports, volunteering, and/or working. It looks much better if you can show that you were involved in certain activities for an extended period of time (for example, being involved in a certain club or activity for all 4 years of high school). Students should take time to write an essay that provides insight into his/her unique personality, values, and goals. It should be personal and display well-constructed writing.
The Common Application (or Common App) is an undergraduate college application that students may use to apply to over 517 member colleges. You can find the application at
www.commonapp.org/
. You can also link your Common App username to your Naviance account. This will allow Mrs. Barbadoro to send your transcript and teachers to send your letters of recommendation electronically- saving stamps and tons of time!
FAFSA online applications open on October 1st of every year. Please look under the "Resources" tab, "Financial Aid" section to find the list of required information. See the FAFSA Help Site (
fafsa.ed.gov/help.htm
) for the answers to more of your financial aid questions.
The ASVAB (Armed Services Vocational Aptitude Battery) is a multiple-choice test, administered by the U.S. Military Entrance Processing Command, used to determine qualification for enlistment in the U.S. Armed Forces. Students can contact a recruiter in order to set up their own testing, but the test will also be offered at PACS twice a year.
Many students do not know what they'd like to do after they graduate. That's okay! The best thing to do now is to research all of your options. Think about your favorite school subject and your favorite hobby. Log in to Naviance and take the career, personality, and college quizzes. Look at some of the responses that interest you, and search for them online.
On PACS' website, under College & Career, there is a link to "Schedule an Appointment Today!" Students can click that link will be taken directly to Mrs. Barbadoro's calendar and can schedule an appointment at any time they wish! Please try to make the appointment during your lunch or an elective class, and definitely not during a class that an exam is scheduled.
Mrs. Barbadoro will then provide a pass for the student in homeroom, but it is up to the classroom teacher to allow the student to attend the appointment or keep the student in class during the appointment time.
If you have a quick and specific question for Mrs. Barbadoro, you can always email her by Clicking Here and she will either respond to your email or schedule an appointment for you.